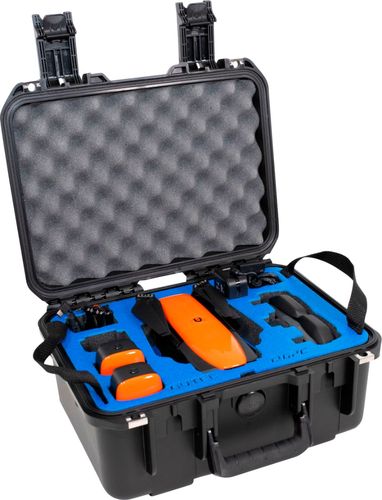 Autel Robotics – EVO Rugged Bundle Drone with Remote Controller – Black And Orange
Capture cinematic footage in the toughest conditions with this EVO Rugged Bundle drone kit. The EVO drone captures 4K resolution footage for up to 30 minutes using a high-quality camera mounted on a stabilized three-axis gimbal that ensures a steady platform. This EVO Rugged Bundle drone kit contains spares in a military-grade hard case for easy transport and maintenance. Fly Responsibly: Before takeoff, update all software and firmware, and read the instructions thoroughly. See the FAA website for registration requirements and information about flying a drone safely: https://www.faa.gov/uas/getting_started/. Additional state or local requirements may apply. Check your local jurisdiction. The following websites may help you make informed decisions about flying your drone: www.knowbeforeyoufly.org and www.modelaircraft.org.
Intelligent flight system
New algorithms provide forward obstacle avoidance, rear obstacle detection, and bottom sensors for more accurate landings and stable indoor flights.
Built-in camera on three-axis stabilized gimbal
Capture stunning video at 4K resolution and 60 fps, and 12.0MP still images with 94° field of view.
Real-time, first-person view of your flight
Beam what your drone sees through its camera straight to your phone or tablet using a free iOS and Android app so you can go on a virtual flight and set up great photographs.
Intuitive remote controller with a 3.3″ OLED display
Allows you to fly EVO and see HD live view without the use of your mobile device.
Autel Explorer app for iOS and Android devices
Provides FHD 1080p live view with more intelligent flight features.
BestBuy Reviews
This product has an average rating of 4.5 on BestBuy based on 11 reviews. Go to bestbuy.com now to view all reviews.