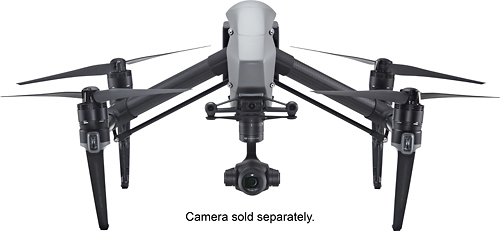 DJI – Inspire 2 Drone – Gray/Black
Capture the world around you with this DJI Inspire 2 drone. It goes from 0 to 50 mph in just 5 seconds, and it's self-heating, so you can fly it in cold weather. The image processing system on this DJI Inspire 2 drone records at up to 5.2K in a variety of formats, making it the ideal filming companion. Fly Responsibly: Before takeoff, update all software and firmware, and read the instructions thoroughly. See the FAA website for registration requirements and information about flying a drone safely: https://www.faa.gov/uas/getting_started/. Additional state or local requirements may apply. Check your local jurisdiction. The following websites may help you make informed decisions about flying your drone: www.knowbeforeyoufly.org and www.modelaircraft.org.
Intelligent flight system
Automatically keeps the quadcopter in the air, while ensuring you stay in control.
Spotlight Pro mode
Allows even single pilots to capture complex, dramatic images. It uses advanced visual tracking algorithms to lock onto a subject during flight.
TapFly mode*
The 2-axis onboard FPV camera separates the flight view from the main camera view, effectively giving the drone a dedicated TapFly camera. Tap a point onscreen in the FPV view to set a flight route.
ActiveTrack mode*
Allows the drone to recognize a range of objects, from people to bikes to cars to boats. Tracking profiles that can be adjusted based on the subject being tracked means greater tracking precision.
Forward and downward vision systems
Help the drone create a real-time map of its flight route as it flies.
CineCore 2.0 image processing system
Offers capability of recording up to 5.2K videos in CinemaDNG, Apple ProRes and more.**
Stream live video
DJI Lightbridge built into the device and the controller allows you to see what the camera sees in real time.**
Real-time, first-person view of your flight
Beam what your drone sees through its FPV camera straight to your phone or tablet using a DJI Assistant 2 app.
Control the drone from up to 22,700′ away
The built-in lithium-polymer battery provides up to 27 minutes of flight time per charge.
Share with your friends
Downloadable DJI director software with a built-in video editor lets you add music, text, and more for polished results.
Durable materials and safety features protect against damage
The magnesium aluminum composite shell is strong and resilient.
Before takeoff, update all software and firmware, and read the instructions thoroughly.
* Coming soon.
** Zenmuse X4S or X5S camera required, sold separately.
CinemaDNG and Apple ProRes formats for Zenmuse X5S camera only. DJI License Key for activation required, sold separately.
BestBuy Reviews
This product has an average rating of 4.1 on BestBuy based on 8 reviews. Go to bestbuy.com now to view all reviews.