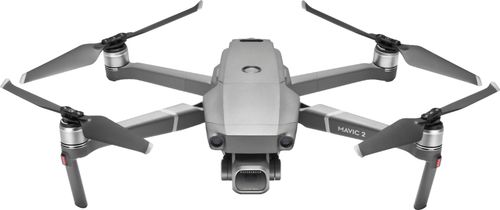 DJI – Mavic 2 Pro Quadcopter without Remote Controller – Black
Capture professional-quality visuals with this DJI Mavic 2 Pro drone. It has a Hasselblad gimbal camera that lets it capture up to 20.0-megapixel aerial images, and it flies up to 47.7 mph thanks to a low-drag aerodynamic design. This DJI Mavic 2 Pro drone transmits from up to 5 miles away, providing more freedom to explore. Fly Responsibly: Before takeoff, update all software and firmware, and read the instructions thoroughly. See the FAA website for registration requirements and information about flying a drone safely: https://www.faa.gov/uas/getting_started/. Additional state or local requirements may apply. Check your local jurisdiction. The following websites may help you make informed decisions about flying your drone: www.knowbeforeyoufly.org and www.modelaircraft.org.
Compact foldable design
Lightweight and compact design allows taking it with you.
Built-in camera 4K Ultra HD at 30 fps
View the world from above in wide-angle perspective, vivid color, and stunning clarity.
Adjustable Aperture
Gives you more flexibility in handling different light conditions.
3-axis gimbal
The Mavic 2's 3-axis gimbal provides smooth, stable footage in just about any situation.
BestBuy Reviews
This product has an average rating of 5 on BestBuy based on 1 reviews. Go to bestbuy.com now to view all reviews.