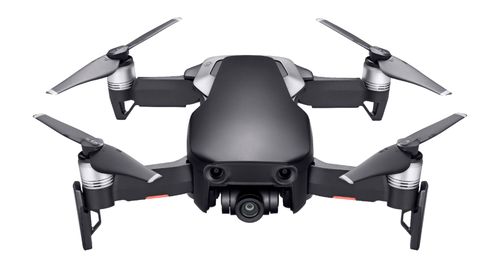 DJI – Mavic Air Quadcopter with Remote Controller – Onyx Black
Fly through the skies with this Mavic Air drone. The collapsible design makes it easy to take this drone anywhere you want to explore, while the 8GB of internal storage and micro SD slot provide plenty of options for storing and saving footage. This Mavic Air drone captures still images and 4K video for breathtaking imagery, and it features a host of specialty camera functions for panoramic shots and slow-motion video capture. Fly Responsibly: Before takeoff, update all software and firmware, and read the instructions thoroughly. See the FAA website for registration requirements and information about flying a drone safely: https://www.faa.gov/uas/getting_started/. Additional state or local requirements may apply. Check your local jurisdiction. The following websites may help you make informed decisions about flying your drone: www.knowbeforeyoufly.org and www.modelaircraft.org.
32.0MP sphere panoramas
In addition to horizontal, vertical, and 180° panoramas, Mavic Air stitches 25 photos together in just eight seconds to create crystal clear 32.0MP sphere panoramas.
Lightweight and compact foldable design
You can take it anywhere with you.
Supports 4K video at 30 fps
The 12.0MP camera with Adobe DNG RAW support is ready to shoot. The three-axis gimbal is capable of stabilizing the camera even during high-speed motion for smooth video and sharp photos.
Real-time, first-person view of your flight
Beam what your drone sees through its camera straight to your phone or tablet using a free iOS or Android app so you can go on a virtual flight, set up great photographs, and monitor telemetry data.
Control your drone from up to 6562′ away
The Mavic Air Intelligent Flight lithium battery provides up to 21 minutes of flight time per charge.
Dedicated remote controller
Features a foldable, low-profile, ergonomic design to hold your smartphone for maximum convenience. The detachable control sticks store inside the remote controller to pack more comfortably on the go.
Fly by phone
Set up tracking to shoot a friend, or head skywards for a quick flight using your smartphone instead of controller.
Share with your friends
Shoot an incredible scene and edit it with just a few taps in the DJI GO editor, and share it instantly for everyone to see.
Safe flight
Its five vision sensors, GPS and GLONASS, a pair of ultrasonic range finders, redundant sensors, and a group of 24 powerful specialized computers make sure that your drone is flying safely.
SmartCapture
Fun, simple, and intuitive, SmartCapture offers a new and interactive way of controlling the Mavic Air by hand. Launch and control the drone with hand gestures, then take photos or videos however you like.
ActiveTrack
ActiveTrack can sense up to 16 selectable subjects simultaneously, letting you choose the right tracking subject on the go.
With higher tracking precision and broader scenario applications, ActiveTrack can follow targets even when they're running, jumping, or cycling.
Walmart Reviews
This product has an average rating of 1.0 based on 1 reviews by Walmart customers. Read some of the latest feedback below or go to Walmart.com to find all reviews.
Buy one!
Review for DJI Mavic Air Quadcopter with Remote Controller – Onyx Black by TheReedster on 2019-09-19T17:00:00
Rating: 5
What a cool toy!
I hope it doesn't turn on me like Arnold!

Review for DJI Mavic Air Quadcopter with Remote Controller – Onyx Black by Dji on 2018-11-25T16:00:00
Rating: 5
All dji drones are great i think the dji store is in hing kong mavic and spark are really great drones thoug
This is NOT the fly more combo !
Review for DJI Mavic Air Quadcopter with Remote Controller – Onyx Black by Andrewp on 2018-07-26T17:00:00
Rating: 1
I bought this over a week ago and it is just the stardard package. Thry still haven't corrected the error.
PLEASE UPDATE YOUR AD !!!
BestBuy Reviews
This product has an average rating of 4.7 on BestBuy based on 299 reviews. Go to bestbuy.com now to view all reviews.