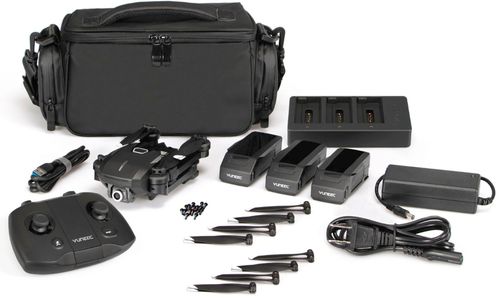 Yuneec – Mantis Q Bundle with Batteries, Remote Controller, Bag & Propellers – Black
Do aerial videography like a pro with this Yuneec Mantis Q X-Pack drone bundle. The foldable drone lets you record 4K videos and comes with three batteries and four sets of propellers to keep you equipped for extended flights and filming. This Yuneec Mantis Q X-Pack drone bundle includes a shoulder bag for organized storage of the included accessories. Fly Responsibly: Before takeoff, update all software and firmware, and read the instructions thoroughly. See the FAA website for registration requirements and information about flying a drone safely: https://www.faa.gov/uas/getting_started/. Additional state or local requirements may apply. Check your local jurisdiction. The following websites may help you make informed decisions about flying your drone: www.knowbeforeyoufly.org and www.modelaircraft.org.
Intelligent flight modes
Take your creativity to the next level by letting Mantis Q focus on the flying, while you focus on the shot.
Vision-based tracking and face detection
Simply smile at the drone to activate face detection. The drone takes a photo in three seconds after recognizing.
Supports 4K video at 30 fps
Using an integrated camera, Mantis Q records high-resolution photos and videos.
Real-time, first-person view of your flight
Beam what your drone sees through its camera straight to your phone or tablet using a free iOS or Android app so you can go on a virtual flight, set up great photographs, and monitor telemetry data.
Dedicated remote controller
Wirelessly control the drone from up to 4921′ away.
Lightweight and compact foldable design
You can take it anywhere with you.
BestBuy Reviews
This product has an average rating of 4.2 on BestBuy based on 6 reviews. Go to bestbuy.com now to view all reviews.
Comparisons
See our articles below to compare Yuneec YUNEEC X-Pack Accessory Kit for Mantis Q Drone to other popular Drones: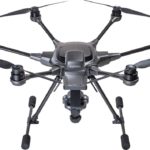 Compare to
Yuneec YUNEEC Typhoon H Plus Pro Hexacopter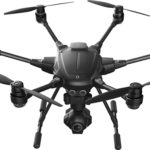 Compare to
Yuneec Typhoon H Hexacopter – Unleash Your Creativity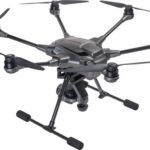 Compare to
Yuneec 817206024033