Model
Yuneec
Typhoon H Hexacopter – Unleash Your Creativity
Yuneec
817206024033

Basic Info

Suggested Price
999.99
1729.99
Price
Check Price*
Check Price*
Release
Sep 2016

Overview

Top Features

Stunning 4K camera
Typhoon H offers flight durations of up to 25 minutes while filming with the CGO3+ 4K UHD camera.
Powerful transmitter
View real-time footage in HD 720p on the screen of the ST16 transmitter with the integrated digital video downlink with a range of up to 1 mile (1.6km).
All-in-one-controller
Integrated transmitter, receiver and Android platform that gives you full control over Typhoon H, allowing you to easily program autonomous flight and capture stunning photos and videos.
Controller display
The large 7-inch integrated screen displays real-time footage of your flight, eliminating the need for an external device.
A bunch of flight modes
Orbit Me, Point of Interest, Journey, Curve Cable Cam, Follow Me / Watch Me and Dynamic Return to Home.
Six Rotor Safety
Typhoon H's six rotor design automatically switches to five rotor mode should a motor fail, enabling it to remain in flight, making piloting safer than ever before.

All Features

Remote Control Power
5.8 gigahertz
Manufacturer's Warranty – Labor
Not Available
1 Year
Maximum Speed
43.5 revolutions per minute
Controller Battery Type
Other
Lithium-ion
Interface(s)
USB
USB
Video Resolution
1080p
2160p (4K)
Integrated Camera
Yes
Yes
Number Of Controller Batteries Required
1
1
Number of Batteries Required
1
1
AC Adapter Compatible
Yes
Yes
Records Audio
No
No
Battery Voltage
14.8 volts
15.2 volts
Recommended Maximum Age
14 years
Operating Frequency
5.8 gigahertz
5.8 gigahertz
Image Sensor Type
CMOS
CMOS
Rechargeable
Yes
Yes
App-Controlled
No
No
Product Weight
3.73 pounds
4.5 pounds
Integrated GPS
Yes
Yes
Camera Gimbal
Included
Included
Memory Card Compatibility
None
None
Model Number
TYPHOONH
817206024033
Charging Interface(s)
USB
USB
Product Name
Typhoon H Hexacopter
Typhoon H Plus Hexacopter with Remote Controller
Landing Gear/Legs Included
Retractable (in-flight)
Retractable (in-flight)
3D Capture
No
No
Brand
Yuneec
Yuneec
Color Category
Black
Gray
Field of View
98 degrees
91 degrees
Microphone
No
No
Additional Accessories Included
Backpack-ready foam insert, Ground Station, Battery, USB charger, LiPo Charger.
Backpack, full set of spare propellers, two batteries, battery charger, car charger adapter,USB cable for remote controller, ower supply and adapter
Burst Mode
Yes
Yes
Color
Black
Gun Medal Gray
HD Streaming
No
No
Directional Controls
All
Manufacturer's Warranty – Parts
Not Available
1 Year
Assembly Required
Partial
Partial
Batteries Included
Yes
Yes
Minimum Operating Temperature
14 degrees fahrenheit
32 degrees fahrenheit
Maximum Operating Temperature
122 degrees fahrenheit
104 degrees fahrenheit
Wi-Fi Built-in
Yes
Yes
Series
Typhoon H
Battery Type
Lithium-polymer
Lithium-polymer
Maximum Payload Capacity
4.33 pounds
4.6 pounds
Image Resolution (Display)
1080
3840 x 2160
Indoor Or Outdoor Use
Outdoor
Outdoor
Image Stabilization
None
None
Charging Time
120 minutes
Obstacle Avoidance Technology
Yes
Yes
First Person View (FPV)
Yes
Yes
Recommended Minimum Age
14 years
14 years
Total Megapixels
12.4 megapixels
20 megapixels
Controller Battery Size
Battery pack
Battery pack
Autonomous Flight Modes
Circle
Circle
Camera Compatibility
CGO3+ 4K UHD camera
Yes
Memory Card Included
No
No
Battery Capacity
5400 milliampere hours
5250 milliampere hours
Product Set
Base
Wireless Range
5280 feet
5280 feet
Controller Batteries Included
Yes
Yes
Number of Rotors
6
6
Battery Size
Other
Battery pack
Internal Memory
10000 megabytes
5000 megabytes
High Definition
No
Yes
Maximum Flight Time (no payload)
25 minutes
25 minutes
Mobile Device Holder
No
No
AC Adapter Included
Yes
Yes
Video Frame Rate
30 frames per second
60 frames per second

More Information

View Details & Price*
View Details & Price*
Not interested in the Drones compared on this page? Simply go back to our main article to start a new comparison between other drones now!
* affiliate links
Related Comparisons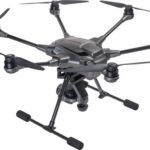 Yuneec Typhoon H Hexacopter – Unleash Your Creativity vs
Yuneec 817206024033