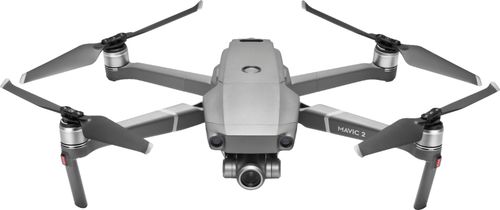 DJI – Mavic 2 Zoom Quadcopter with Remote Controller
Take stunning aerial photography with this DJI Mavic 2 drone. Its 1-inch CMOS sensor captures crisp, detailed 12-megapixel photos, and the adjustable aperture on the camera lets you modify light levels. This DJI Mavic 2 drone has a maximum flight time of 31 minutes and a 3-axis gimbal for taking smooth videos of scenery. Fly Responsibly: Before takeoff, update all software and firmware, and read the instructions thoroughly. See the FAA website for registration requirements and information about flying a drone safely: https://www.faa.gov/uas/getting_started/. Additional state or local requirements may apply. Check your local jurisdiction. The following websites may help you make informed decisions about flying your drone: www.knowbeforeyoufly.org and www.modelaircraft.org.
24-48 mm optical zoom camera
The 1/2.3″ 12.0MP sensor and 2x optical zoom lens (24mm-48mm, 35 equivalent) allow users to capture everything from wide angle to mid-range shots for more creative options.
OcuSync 2.0 video transmission system
Performance is greatly enhanced with improvements made to communication distance, video quality and anti-interference, offering you unprecedented control.
Supports 4K video at 30 fps
The 12.0MP camera with Adobe DNG RAW support is ready to shoot. The three-axis gimbal is capable of stabilizing the camera even during high-speed motion for smooth video and sharp photos.
Real-time, first-person view of your flight
Beam what your drone sees through its camera straight to your phone or tablet using a free iOS or Android app, so you can go on a virtual flight, set up great photographs, and monitor telemetry data.
Dedicated remote controller
Features a foldable, low-profile, ergonomic design to hold your smartphone for maximum convenience. The detachable control sticks are stored inside the remote controller to pack more comfortably on the go.
Safe flight
Its five vision sensors, GPS and GLONASS, a pair of ultrasonic range finders, redundant sensors, and a group of 24 powerful specialized computers make sure that your drone is flying safely.
ActiveTrack 2.0
With improvements to both hardware and software, ActiveTrack 2.0 takes your tracking experience to a whole new level and ensures precise recognition, trajectory prediction, high-speed tracking, obstacle sensing.
Share with your friends
Shoot an incredible scene and edit it with just a few taps in the DJI GO 4 editor, and share it instantly for everyone to see.
Lightweight and compact foldable design
You can take it anywhere with you.
BestBuy Reviews
This product has an average rating of 4.8 on BestBuy based on 260 reviews. Go to bestbuy.com now to view all reviews.