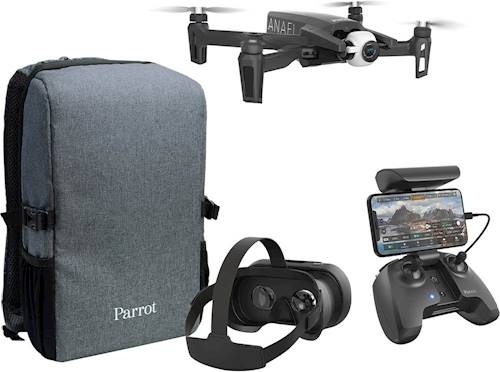 Parrot – ANAFI FPV Drone with Skycontroller – Dark Gray
Capture videos and photos from high altitudes with this Parrot ANAFI first-person view drone camera. The 4K HDR video display delivers crisp images, and a 180-degree tilt gimbal lets you take pictures from different perspectives without sacrificing quality. This Parrot ANAFI first-person view drone camera features a foldable design and comes with a carrying case for easy, secure transport. Fly Responsibly: Before takeoff, update all software and firmware, and read the instructions thoroughly. See the FAA website for registration requirements and information about flying a drone safely: https://www.faa.gov/uas/getting_started/. Additional state or local requirements may apply. Check your local jurisdiction. The following websites may help you make informed decisions about flying your drone: www.knowbeforeyoufly.org and www.modelaircraft.org.
Shoot 4K Cinema (4096 x 2160) video at 24 fps
Offers visually stunning footage. It captures 21.0MP (5344 x 4016) photos. The f/2.4 lens with a 84° field of view delivers crisp, clear images.
Three-axis hybrid image stabilization
Ensures smooth videos and steady photos as it reduces the rolling shutter effect and vibrations.
180° camera tilt
You can use a controllable tilt gimbal with its zenith angle (+90°) and nadir angle (-90°) to capture images above or under inaccessible areas.
First-person-view-ready
With included Cockpitglasses 3, photographers can enjoy total immersion in the on-screen image, exploring new techniques for shot composition – then seamlessly toggle into deep image controls to fine-tune photos and videos.
Parrot Skycontroller 3
This ANAFI FPV drone has its own controller so you can slot your compatible mobile device into Parrot Skycontroller 3 for an intuitive flight experience. The controller supports screen sizes of up to 6.5″.
FreeFlight 6.6 app
Available on both iOS and Android devices, it offers a smooth and intuitive flight experience, allowing you to perform intricate flights in difficult areas stress-free.
Foldable design
Unfolds in less than three seconds, making it an ideal quick-to-deploy tool for busy professionals.
Wind resistance
This drone can fly with perfect stability in winds of up to 31 mph, giving you the chance to conduct inspections in light winds.
Ultracompact and lightweight construction
Weighs only 0.7 lbs. and has a unique foldable design, meaning you always have it at hand.