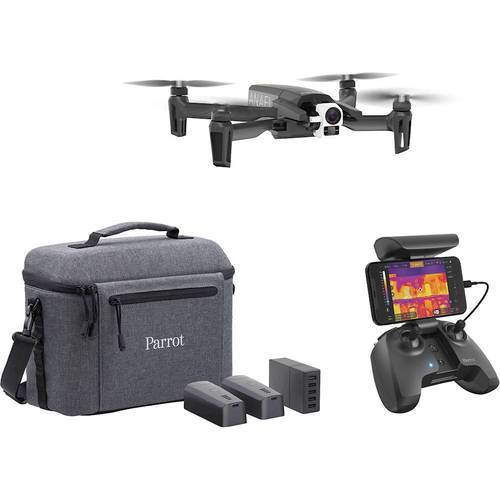 Parrot – ANAFI Thermal Drone with Skycontroller – Black
Create detailed heat maps with this Parrot ANAFI thermal drone. The built-in camera captures stunning aerial footage, and the FLIR radiometric sensor lets you take thermal images from the air. The included app makes this Parrot ANAFI thermal drone easy to command using Android and iOS devices, and the compact design offers simple portability. Fly Responsibly: Before takeoff, update all software and firmware, and read the instructions thoroughly. See the FAA website for registration requirements and information about flying a drone safely: https://www.faa.gov/uas/getting_started/. Additional state or local requirements may apply. Check your local jurisdiction. The following websites may help you make informed decisions about flying your drone: www.knowbeforeyoufly.org and www.modelaircraft.org.
Thermal FLIR Lepton 3.5 imaging camera
Measures and reveals thermal differences.
Shoot 4K UHD video at 30 fps
The second camera comes with a 21.0MP Sony sensor specifically designed for visual inspection.
Three-axis digital stabilization system
Ensures smooth videos and steady photos as it reduces the rolling shutter effect and vibrations.
180° camera tilt
You can use a controllable tilt gimbal with its zenith angle (+90°) and nadir angle (-90°) to capture images above or under inaccessible areas.
3D modeling
Easily capture accurate aerial data, and create 3D models of buildings and infrastructures.
Parrot Skycontroller 3
This ANAFI thermal drone has its own controller so you can slot your compatible mobile device into Parrot Skycontroller 3 for an intuitive flight experience. The controller supports screen sizes of up to 10″.
FreeFlight 6 app
Allows you to easily switch from an RGB view to a thermal view or merge the two for a perfectly readable and comprehensible rendering of everything and more.
Wind resistance
This drone can fly with perfect stability in winds of up to 31 mph, giving you the chance to conduct inspections in light winds.
Ultracompact and lightweight construction
Weighs only 0.7 lbs. and has a unique foldable design, meaning you always have it to hand.