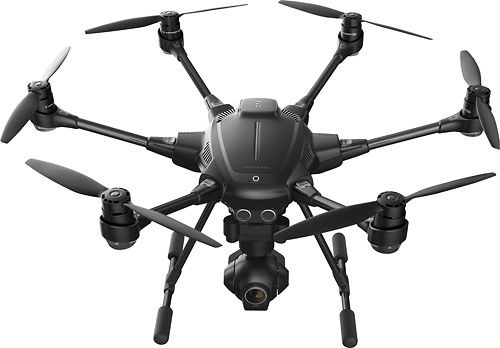 Yuneec – Typhoon H Hexacopter – Black
Soar over the skies with the Yuneec Typhoon H drone. The gimbal camera mount rotates a full 360 degrees, capturing all the action from the air, while the six rotors and the carbon fiber build lets you fly it smoothly. The Yuneec Typhoon H drone has a failsafe system that stabilizes it, preventing it from plummeting to the ground. Fly Responsibly: Before takeoff, update all software and firmware, and read the instructions thoroughly. See the FAA website for registration requirements and information about flying a drone safely: https://www.faa.gov/uas/getting_started/. Additional state or local requirements may apply. Check your local jurisdiction. The following websites may help you make informed decisions about flying your drone: www.knowbeforeyoufly.org and www.modelaircraft.org.
Stunning 4K camera
Typhoon H offers flight durations of up to 25 minutes while filming with the CGO3+ 4K UHD camera.
Powerful transmitter
View real-time footage in HD 720p on the screen of the ST16 transmitter with the integrated digital video downlink with a range of up to 1 mile (1.6km).
All-in-one-controller
Integrated transmitter, receiver and Android platform that gives you full control over Typhoon H, allowing you to easily program autonomous flight and capture stunning photos and videos.
Controller display
The large 7-inch integrated screen displays real-time footage of your flight, eliminating the need for an external device.
A bunch of flight modes
Orbit Me, Point of Interest, Journey, Curve Cable Cam, Follow Me / Watch Me and Dynamic Return to Home.
Six Rotor Safety
Typhoon H's six rotor design automatically switches to five rotor mode should a motor fail, enabling it to remain in flight, making piloting safer than ever before.
Walmart Reviews
This product has an average rating of 4.7 based on 3 reviews by Walmart customers. Read some of the latest feedback below or go to Walmart.com to find all reviews.
Excellent product 100%
Review for Yuneec Typhoon H Hexacopter – Unleash Your Creativity by Jrod67 on 2018-07-10T17:00:00
Rating: 5
Pretty nice drone very easy to fight,, battery life good!! Look crazy lights in the dark !!!
Great features and capability
Review for Yuneec Typhoon H Hexacopter – Unleash Your Creativity by WP on 2018-01-04T16:00:00
Rating: 5
Although I'm still learning how to really get the best out of the drone (flying and photography), so far it has been a blast (cant stop smiling). Way more than I expected. I purchased this because I felt the value in terms of price and capability were a no brainier. I also chose this drone because of its size (large), carbon fiber construction (arms and landing gear) and form factor (hexacopter) which MIGHT be better where I live given the unpredictable winds. I opted to add a Wizard controller and the Intel RealSense module later so I would recommend it as a bundle if you can afford it; you will save $$$ by buying it as a bundle. The only problem so far has been the weather which has prevented me from flying more.
Great advanced skill deone
Review for Yuneec Typhoon H Hexacopter – Unleash Your Creativity by The real raw gary on 2018-07-10T17:00:00
Rating: 4
Great drone for pros and amature pilots but not in any way should you think hey I want a drone and this will be the first one. Get a mustang before you move up to the big dogs. Great pictures decent flying time the controller is huge and intimidating but it really isn't hard to figure it out. 4k ar 30 frames is awesome and the pictures and film look amazing. Dont be a Jerry and ever auto images set them up right to save time in post.
BestBuy Reviews
This product has an average rating of 4.3 on BestBuy based on 156 reviews. Go to bestbuy.com now to view all reviews.
Comparisons
See our articles below to compare Yuneec Typhoon H Hexacopter – Unleash Your Creativity to other popular Drones: